ZoneOptions Review
Introduction
Rodellar Limited is based in Nicosia, Cyprus. They are in the business of binary options brokerage, offering traders the opportunity to profit from their asset offering using the Tech Financial platform suite.
Zone Options Bonus
When opening a new account with ZoneOptions, you will become eligible for a free 100% bonus on your first deposit.  to find out more about this offer, please click here.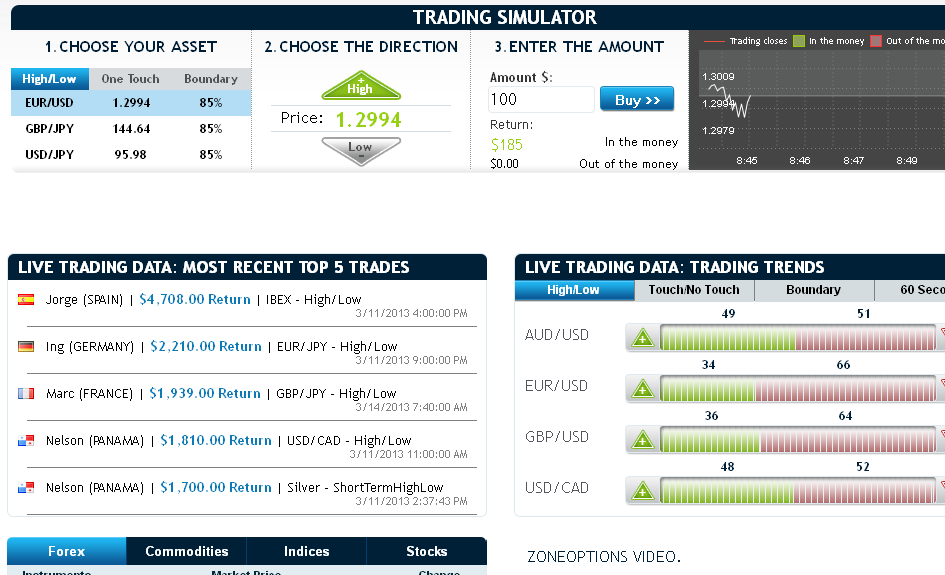 Trade Types
What trade types can traders expect to encounter on the ZoneOptions platform?
a)    Binary Option: With the High/Low option, the trader can select an asset and predict whether it will be higher or lower than market price in 15 mins, 30 minutes, 45 minutes, one hour, two hours, etc. A second type of this option allows the trader the flexibility of setting the strike price.
b)    Touch Option: This is a Touch option with a weekly expiry and a yield of up to 500% on a profitable trade. Another variation allows the trader to simply bet on a Touch or No Touch basis.
c)     Boundary Option: Whether it is the regular boundary trade (In/Out) or the high yield version of the trade, the trader can bet on whether the asset will breach the boundaries of the trade or not.
d)    Short Term: This is a recently introduced option which at the moment features the 60 second option. Tech Financial has introduced the 2-minute and 5-minute option, so we may be seeing these added to this trade class shortly.
Asset Index
You can trade the following assets on the ZoneOptions platform:
a)    Commodities: Silver, Oil, Gold.
b)    Currencies: EURUSD, GBPUSD, EURJPY, GBPJPY, USDJPY, USDCAD, USDCHF, , USDTRY, EURTRY.
c)    Indices: S&P500, Dow Jones, FTSE, CAC40, DAX30, IBEX35, MIB40, NIFTY, ASX200.
d)      Stocks: Apple, Amazon, eBay, Google, HSBC, IBM, JP Moprgan Chase, McDonald's, Microsoft, Nike, ExxonMobil, Citigroup, American Express, Baidu, Sony, FIAT, Axa, BNP Paribas, Vodafone, TATA Motors, ICICI Bank.
Trade Requirements
First deposits can be made with as little as $200. Subsequent deposits also can be made with $200. This is also the same amount that constitutes the minimum withdrawal amount.
Traders can transact on ZoneOptions with the following payment channels:
a)    Bank wires: This method requires an initial deposit of at least $1000. Deposit amounts are unlimited. If sending less than $1000, the deposit will incur a $30 charge. All bank wire withdrawals attract a service fee of $30.
b)    Moneybookers: Whether the trader is making a direct payment from a Moneybookers account or conducting third-party processing for credit cards/e-payments, a trader can deposit between $200 and $5000.
c)     Credit/debit cards: If you have a card and can use it on ZoneOptions, it is likely that your card is of the MasterCard, VISA, Diners Club, Discover, Visa Delta, JCB, Carte Bleue or Laser brands. Card verification is mandatory, and deposit is between $200 and $10,000.
d)    For those with access to Liberty Reserve, fund your accounts with ZoneOptions LR account number U2362534.
Customer Support
In order to reach the Customer Support Desk on ZoneOptions, the following channels can be used by traders and visitors alike:
a)    Phone: +44-203-514-2063 (English), +33-97-518-2071 (French).
b)    Email: support@zoneoptions.com
c)     Live Chat: Accessible from any of the pages of the ZoneOptions website.
Thanks for reading our ZoneOptions review.  If you would like to leave your feedback then please complete the Disquss form below.