OptionBit Review
Introduction
DC Digital Finance Ltd owns and operates OptionBit,  one of the few binary options brands that runs on the Tradologic white label platform.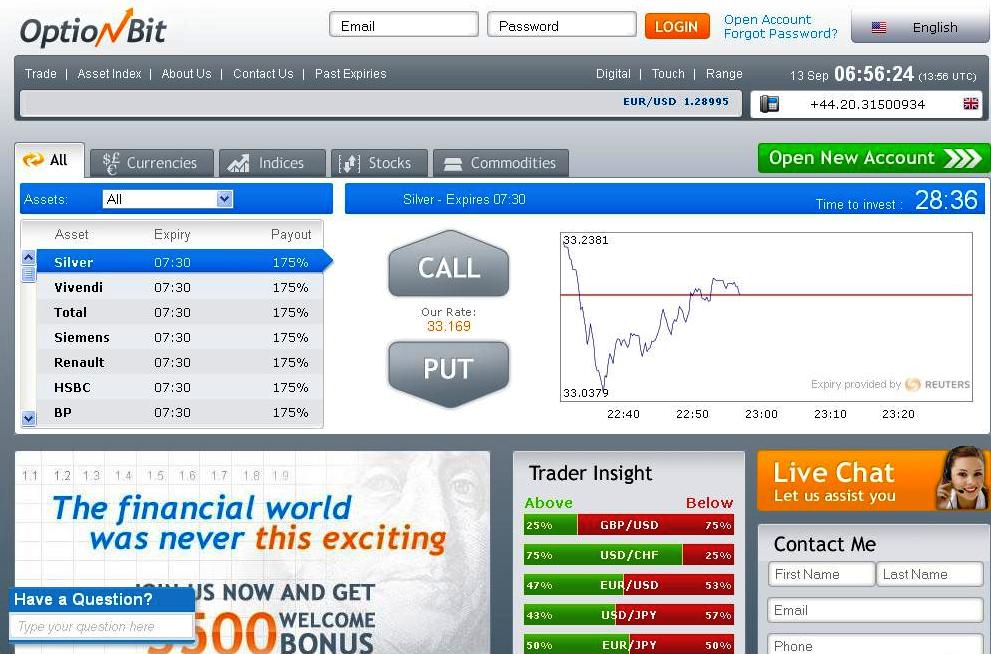 Trade Types
Binary options brands such as OptionBit that run on Tradologic have three trade types:
a)      Range Option: This is another name for the In/Out or boundary option. It gets this name because the trader is betting on whether the asset stays within a range of prices (formed by an upper and lower boundary) or breaks out of that range.
b)                 Touch Option: This is the equivalent of the Touch/No Touch contract found on some other platforms. There is an added twist though. There are two touch prices; an upper touch and a lower touch. So the trader must choose which of the two targets the price will hit.
c)                  Above/Below (Digital) Option: This is the equivalent of the Call/Put option.
Asset Index
Assets on OptionBit are classified into four groups. The following assets can therefore be traded:
a)      Commodities: Silver, Copper, Gold and Oil.
b)      Currencies: EURUSD, GBPUSD, USDJPY, GBPJPY, AUDUSD, EURGBP, EURJPY, EURCHF, USDCAD, USDCHF, USDNOK, USDSEK, USDRUB.
c)      Indices: KOSPI200 Futures, S&P500 Futures, CAC40 Futures, FTSE100 Futures, NASDAQ100, Xetra DAX Futures, BOVESPA, Nikkei 225, TOPIX500, IBEX35, BEL20, AEX-25.
d)      Bonds: BUND (the German bond market). OptionBit is one of the very select few that offer brokerage operations where traders can trade bonds as binary options.
e)      Stocks: Allianz, Amazon, Apple, Baidu, Bayer, BMW, Boeing, BP, Chevron, Coca Cola, Danone, Deutsche Telekom, Disney, ExxonMobil, Facebook, France Telecom, Gazprom, General Electric, Google, Honda, HSBC, IBM, Intel, McDonald's, Microsoft, Mitsubishi, Morgan Stanley, Nike, Renault, Siemens, Sony, Total, Toyota, Vivendi, Vodafone.
Trade Requirements
Traders who wish to trade with OptionBit can use the following methods for account deposits and withdrawals:
a)      Credit card/debit card: This is the transaction method of choice for those who have access to it. Traders must submit a scanned copy of the front and back of their card (s) for verification before they can use their cards freely for transacting on OptionBit.
b)      For those who cannot use credit/debit cards, the bank wire transfer option can be used.
c)      Western Union is also used to a lesser degree.
Instructions regarding the use of bank wires and Western Union can be obtained from OptionBit support.
With as little as $100, a trader can open an account and start trading on OptionBit. There can be only one free withdrawal made in a month; additional withdrawals will attract a $30 fee.
The speed of withdrawals will depend on the type of account that the trader opens, with VIP account holders getting the fastest withdrawals (24 hours) as opposed to regular account holders whose withdrawal transactions are cleared in 3-7 days.
Customer Support
There is a multi-lingual customer support team on OptionBit that ensure that non-English speakers are not left out of the party. Using the live chat, email (support@optionbit.com) or any of the numerous country-specific phone numbers, traders and other visitors to the site can reach OptionBit.