EmpireOption Review
Introduction
Who owns and operates the EmpireOption brand? The answer is Lubona Enterprises Ltd, a company operating from the British Virgin Islands. EmpireOption serves the SpotOption platform to its traders for trading use.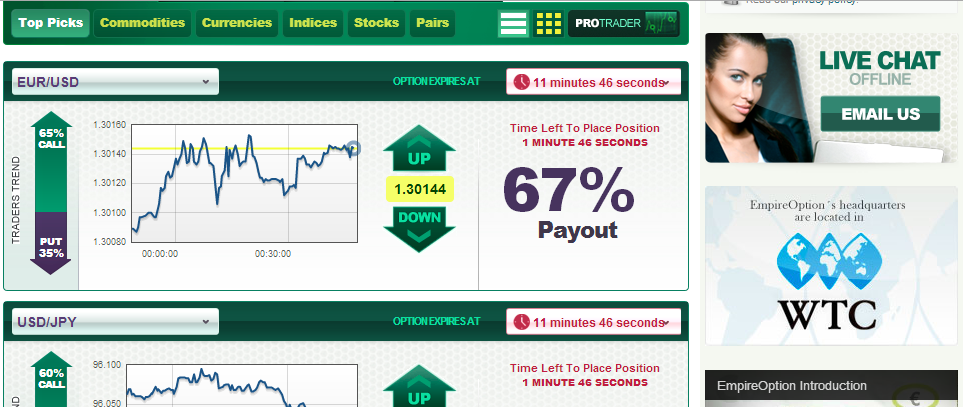 Trade Types
The trade contracts that are up for fixed odds trading on EmpireOption are:
a)      Call/Put: Where traders can bet on the asset ending the trade higher or lower than trade entry price.
b)      60 seconds: A Call/Put trade with a 60-second expiry time.
c)      OptionBuilder: Customize expiry times to the hour and minute of a clock in a 24-hour period.
d)      One Touch: This is the high yield touch with a weekly expiry.
Assets Traded
What assets can binary options traders expect to meet when using the EmpireOption platform?
a)      Stocks: Traders can trade stock binary options of Apple, BAE Systems, BP, Reuters, BAE, Gazprom, Google, Coca Cola, HSBC Holdings, Nike, Rolls Royce, Sberbank, TATA Motors and Turkcell.
b)     Commodities: Only crude oil and the spot metals (platinum, silver and gold) are traded here.
c)      Currencies: The currency majors (EURUSD, GBPUSD, USDJPY, USDCAD, AUDUSD) and some exotic pairs such as EURTRY, USDZAR, USDEGP, EURJPY, USDBRL, EURGBP and USDRUB can be traded on EmpireOption.
d)     Indices: The American indices (Dow, S&P500 and NASDAQ) as well as some European indices (CAC40, DAX30, FTSE100, ISE30, MICEX10,  RTS Futures, MSM30, Tadwul, EGX30, Singapore's Straits Times, China's SSE180, India's Bombay SE and the KL Futures are traded here.
Trade Requirements
A new trader to EmpireOption would notice that he or she can open one of three possible account types. The type of account opened will ultimately determine the trade requirements. Things such as bonuses and minimum account opening balance are impacted by the account type opened by the trader. The account types are:
a)      Bronze acc: Starts from $300 to a maximum deposit of $1,999. All withdrawals are charged at $30, and withdrawals can only be made after 15 trades a month. The minimum the trader can withdraw is $100. There is no access to a demo account.
b)      Silver acc: Starts from $2000 to a maximum of $9,999. There is a demo account access, withdrawals are charged at $15, and can be made only after 7 trades have been made in a month. A minimum of $100 can be withdrawn, and this is done faster than those for bronze account holders.
c)      Gold acc: Starts from $10000. In addition to demo account access, withdrawals are cheaper and only 5 trades are needed in a month to make a withdrawal. Withdrawals can be processed in the fastest time (2 days). In addition, traders can withdraw as low as $1.
The only way that traders can transact on EmpireOptions is by the use of credit card s and by bank wires. Traders can hold accounts in Euros and US Dollars. When trading, traders are restricted to a total exposure value of $1,500. Traders cannot put more than $1,000 into a single trade.
Customer Support
There are only two ways by which clients can reach the customer service desk on EmpireOption, and these are via:
–      Live chat: This is accessible from every page on the EmpireOption website.
–      Email: There is an online form on the Contact page which can be used to send a message delivered as an email to the EmpireOption staff.