FAST Trading with Binary Options
After selecting and registering with your preferred binary options broker, you should then be able to gain automatic admission to advance trading facilities that can help rapidly increase your trading prospects regardless of your present levels of skills and knowledge. Essentially, your broker's own team of trading professionals will send you their latest valuations on the best underlying assets to trade.  Their choices will be those assets that will present you with the optimum prospects to achieve maximum profits by minimizing risk.
This data is often presented on your trading platform using a format displayed in the next figure:-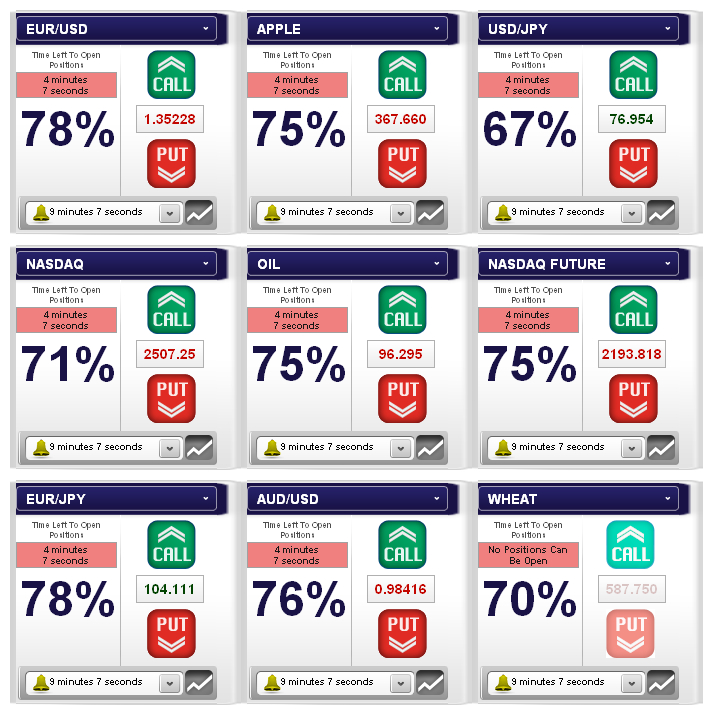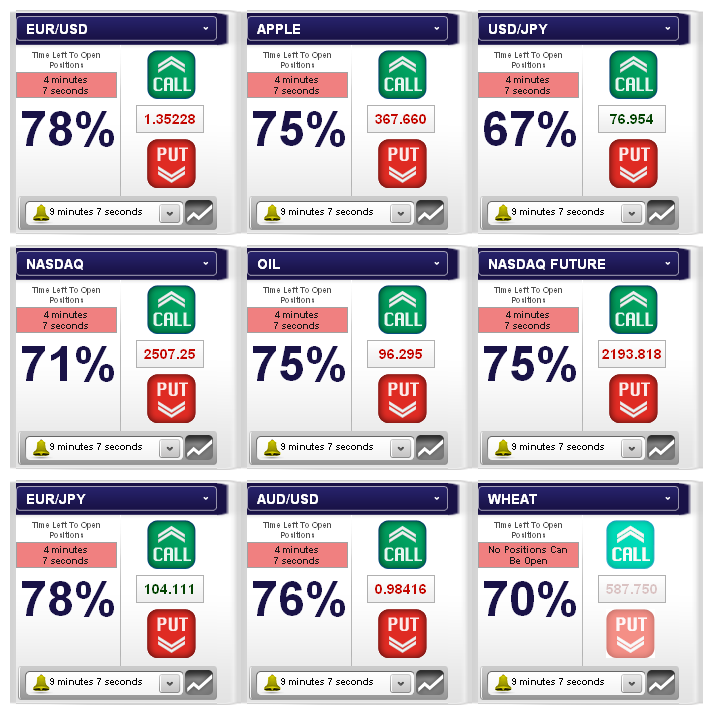 After analyzing the above diagram, you can verify that an extensive selection for hot binary options tips is offered based on underlying securities such as indexes (NASDAQ Futures), currencies (USDYEN, EURJPY, AUDUSD and EURUSD), commodities (wheat and oil) and stocks (Apple). Other key data is also provided as is now shown: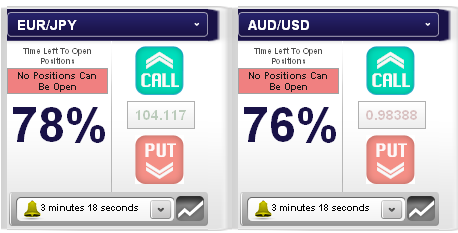 You can observe that EURJPY has a present price of 104.117 and is coloured green. This status implies price of this asset has recently trended upwards and is strongly advising that a 'CALL' binary option should be opened.
In comparison, you should also be able to validate that AUDUSD is posting a price of 0.98388, denoted by a red coloring. This is a bearish signal produced because the price of this security has been moving downwards during recent trading sessions and is an endorsement to initiate a 'PUT' binary option.
When utilizing such a tool, you should specifically note the time remaining before expiration. On the above figure, the expiry time is clearly identified and informs you that you have that time remaining to activate the trades.
The only actions you have to perform when deploying a Fast Trader facility is to choose your favored security and then activate either a 'CALL' or 'PUT' binary option after confirming the price color displayed. This sequence of actions must be performed before the time of expiration distinctly presented for each hot tip elapses.
Such exciting features, that are offered by most leading brokers these days, present you with a secured way of instigating binary options possessing optimum profit potential at minimum risk. You can achieve success using such tools regardless of your trading skills or status.  In addition, you only need to determine the size of your deposits that you prefer to invest into your positions.
As a registered member of a leading binary options broker, you will be able to exploit the analysis supplied by its team of professionals to the maximum. By monitoring and tracking their hot tips regularly, such actions could provide you with an easy and lucrative method to generate a dependable worthwhile income on a consistent basis.
For example, your broker may also provide you with analysis supporting their selection of hot tips. For example, here is an example of such data for the EURUSD currency pair:
EURUSD:  The Euro continued its rally against the US dollar during the early part of yesterday's trading session with the EURUSD climbing by nearly 40 pips to a daily high at 1.3127 amid hopes that Spain will submit an official request for international aid soon. However, the pair slumped later in the day by plummeting over 70 pips to a daily low located at 1.3057, as shown on the chart below.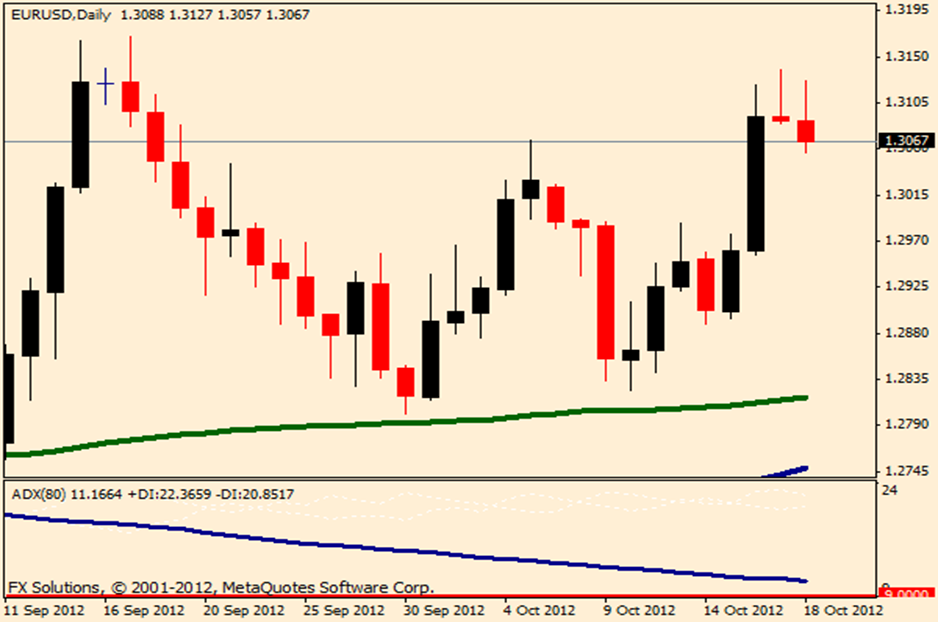 The primary drivers behind this bearish movement were the release of a worse-than-expected US labor report and a Philadelphia Fed manufacturing survey disclosing falling employment and a declining new orders outlook. The single currency came under further stress arising from the price feed crash debacle which prompted investors to seek the sanctuary of safe-haven assets, such as the US dollar and US treasuries. Analysts are now suggesting that yesterday's sharp sell-off could cause the Euro to weaken further today against the USD. As such, consider selling the EURUSD if price drops below 1.3049.
You could just opt to activate a hot tip without performing any analysis on the underlying asset as many traders do. However, you may prefer to study the trading performance of those securities that interest you, such as the analysis provided above, in order to validate that you are making a wise decision. Although such studies are not necessary, they have been shown to increase the chances of success.
Click here to return to the main binary options section.