Banc de Binary Review
Introduction
Banc de Binary is a binary options brokerage outfit which operates out of Limassol, Cyprus but is rapidly spreading out by opening regional offices in the US, UK and other parts of the world. Banc de Binary is an operator of the Bbinary binary options platform, which is a customized version of the SpotOption white label platform.
Banc de Binary Review
Banc de Binary Bonus Offer
Banc de Binary have discontinued bonus offers.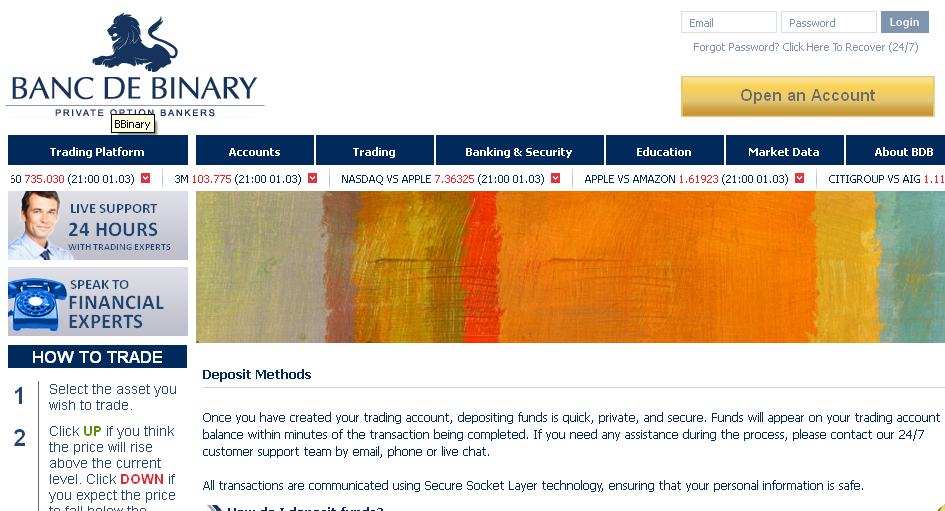 Trade Types
The following trade types are offered by Banc de Binary on their platform:
a)      Call/Put Option: This is a bet on the asset ending the trade higher or lower than the market price by the time the trade is over.
b)      60 Seconds Option: A Call/Put trade type which expires in 60 seconds.
c)      One Touch: The high yield touch trade has a weekly expiry with a 500% payout on successful trades.
d)      OptionBuilder: Traders can set their expiries to the exact hour and minute of the day on the Call/Put contract.
e)      Binary META: This is a binary options contract with a variable expiry permitting early closure of the trade.
Asset Index
Traders can trade assets in four different classes as follows:
Commodities: Oil, corn, coffee, sugar, wheat, gold, platinum and silver.
Currencies: EURUSD, USDCHF, USDJPY, USDZAR, USDTRY, USDSGD, NZDUSD, USDCAD, EURGBP, AUDUSD, GBPUSD and EURJPY.
Indices: ASX, Bombay SE, BOVESPA, CAC40, DAX, Dow, Dubai, FTSE100, Hang Seng, IBEX, MICEX10, NASDAQ, Nikkei 225, S&P500, SSE180, STraits Times, TADWUL, Tel Aviv 25, TOPIX.
Stocks: Apple, Barclays, BIDU, BP, BAT, Coca Cola, Danone SA, FIAT, France Telecom, Gazprom, Goldman Sachs, Google, HSBC, IBM, LEUMI, Petrobras, Sberbank, TATA, TOTAL, Toyota, UNilever, VIVENDI, Deutsche Telecom, SAB Miller, Tesco, Vodafone, UBS, Rio Tinto.
Trade Requirements
Accounts can be held in either US Dollars or Euros. The minimum deposit requirement on the Banc de Binary platform is 500 US Dollars or Euros. Traders can get as much as 100% bonus dependign on what is allocated to the trader by the account officer on an individual basis.
Traders can use the following transaction methods on Banc de Binary:
a)      Credit card/debit card: Deposits are instantly credited to the trader's account while withdrawals are processed within 2-3 working days. Credit card transactions can be done directly or via Moneybookers. Deposits above $1400 will require the trader to open a Moneybookers account.
b)      Traders can use Moneybookers to accept deposits and pay out withdrawals directly or via third party credit card transactions. It is a requirement to open and verify the Moneybookers account if the transaction amount is greater than $1400.
c)      Bank wires take up to 5 working days to process. They are the slowest but most globally accessible method of transaction.
d)      Liberty Reserve: There are no transaction limits with this method of transaction.
The maximum investment amount is 3,000 USD/Euros while the minimum is 1 USD/Euro.
Customer Support
There are several ways to contact the customer support desk on Banc de Binary. Apart from their physical locations in Limassol, Cyprus and othe regional offices in the UK and Europe, traders can also contact Banc de Binary using the following means:
Skype: The link to either chat with the Skype team or to call them using Skype is located on the Contact Us page. There is also a link on that page to add the Skype team to your list of contacts.
Email: There are several email addresses that attend to the various types of inquiries and complaints that may come in. This provides a more organised system of attending to the support needs of clients.
There is also a live chat facility accessible from the home page and contact page of the Banc de Binary website email (support@Banc de Binary.com) as well as several toll free lines that cater to clients from different areas of the world.
North America: 1-212-710-5905
United Kingdom Toll Free: 0-800-051-5780
France Toll Free: 0800-915329
Germany Toll Free: 0800-182-5829
The extensions to call for customer support and the accounting departments are ext. 14500 and ext.  5001 respectively.