A Review of IQOption
IQ Option is a unique provider using their own custom built binary options trading platform which is unusual in this industry.
The site is operated by Iqoption Europe ltd. which is based in Cyprus and regulated by Cysec.  IQ Option covers a broad spectrum of assets, including currency pairs, stocks, indices, precious metals, commodities and Bitcoins.
IQ Option definitely have money to splash – they are sponsoring Aston Martin Racing team. IQ Option has only formed in 2013 but the company has grown rapidly due, at least in part, offering a low minimum deposit to start and making available a smooth and exciting trading platform.
General Risk Warning: Binary options trading carries a high level of risk and can result in the loss of all your funds. You should never invest money that you cannot afford to lose.
IQ Option's home page presents a cool looking 3D chart with candles and quotes. There are no nonsense advertisements, and the website is free of clutter.
Here are some of the key details about the IQOption brand;
Trading Platform – Proprietary, developed inhouse which means that you won't find it anywhere else.
Web or Download – You can either trade using a web browser or download the software or even trade on the go with a mobile application.
Demo Account = Yes. Available to anyone. [A free demo account is offered – and I mean really free (!), without any of the shenanigans like "Deposit 100 bucks in a real account and we will give you a free demo".]
Minimum Deposit -£10 [starting with small amounts is good and IQ Option supports this.]
A VIP Account will require an initial deposit of $3000 or more and will include the services of a personal account manager
Minimum trade – £1
Currencies Supported – USD, Rubles, Pounds, or Euros
Expiry Times – 60 sec, 2min, 5min, 15 min, 1 hr, End of Day, End of Week, End of Month
Assets – Currencies, Popular Stocks, Indices, Commodities [I counted some 75 assets the last time I checked]. – we are told that quotes  are provided by DevExperts
Mobile App – Yes. IQ provide excellent mobile trading apps. These are covered in more detail below.
Countries Accepted – They accept clients on a global basis except from the USA, Russia, Canada, Australia, Belgium, France, Japan, Turkey, Israel, Syria, Sudan, and Iran.
They offer two kinds of option:
Binary Options – The basic High/Low binary option. Will the asset rise in value, or fall? These start from 15 minutes timeframe but can go all the way to end of week or end of month.
Turbo – Exactly like a traditional binary option, but with short expiry times – expiration time will be less than 5 minutes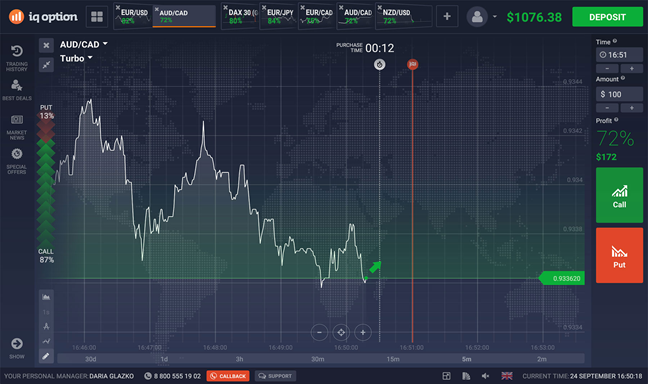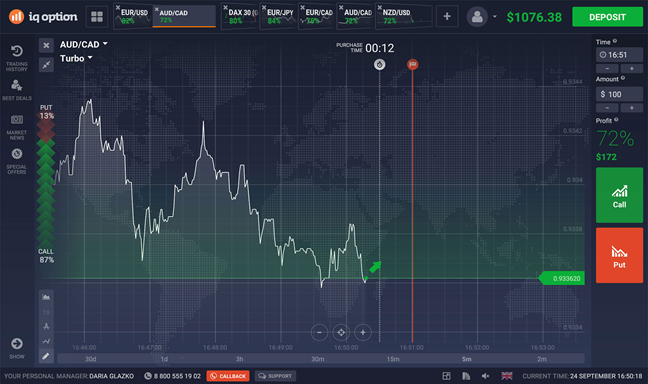 So, what exactly stands out about the IQ Option platform? As soon as you get access to it you can see that the platform looks like a real dedicated trading platform and not just one that has widgets attached to your browser. It is quite absorbing and the interface displays beautifully with a high contrast graph on a dark screen. It is very intuitive and easy to use as well.
The chart updates live, and the bright glowing green dot immediately grabs your attention with its pulsing movement – it is quite exciting.  If you hover your mouse over "Call" or "Put," an arrow appears pointing in the direction that you are saying that price will move. For a new trader who learns visually, this is a wonderful feature to provide clarity and focus.  On the right, above the payout percentage, you will find the option expiry date which you can easily increase or decrease with the + or – icons.  You can select your trade amount in the top right. If you want, you can trade as little as $1.
The price graph makes up the main part of the trading platform. But down the left hand side of the trading area are the navigational buttons.  to move to different areas of the website (these can be collapsed when not required) – and alongside those are some powerful technical analysis features.
You can also amend the time interval of the chart as well as the chart type (for example, bar charts or candlesticks etc). The technical analysis tools are particularly useful – traders can add moving averages, MACD, Bollinger bands or any of the other indicators available. These will show almost instantly on the chart.  The graphical tools allow traders to add freehand graphics to the charts – so they can add trend lines or resistance and support levels.
Traders can also zoom in and out of the chart interface with relative ease.  Even after applying all the indicators and some drawings to the chart, IQ Option does not slow down your computer or your browser for that matter.
Just above the new analysis options is the trader sentiment bar. As ever, this shows the way other traders are trading the particular asset. Above that are options to minimise or close the current asset trading window.
To select an asset use the drop down arrow at the top of the platform.  This will pull down a menu where you can choose the type of option to use (turbo or binary) and then select the category of asset (for instance forex or indices) and then the specific asset.  As soon as you have selected the asset say EUR/USD, the price graph will update for the chosen market.
There are also tabs at the top of the trading area where you can quickly switch to markets you have traded previously.  Open positions will also appear as a new tab here – making switching very easy.
The price graph displayed on the main screen will illustrate the recent price movement of the asset, but overlaid on the graph there are also vertical lines displaying the purchase deadline (which is the time by which you have to take a trade) and the expiration time.  There is also a 'Time' drop down menu to the right of the graph and this can be used to change the expiry time – if changed, the purchase deadline and expiration time will move on the price graph, giving a visual indication of the timings.  The -/+ buttons will shift the time to the next applicable time slot.
Listed on the right hand side are the other key figures for the trade. The trade amount is just below the expiry time – the minimum trade value at IQOption is just £1. The payout for that particular asset in the event of a successful trade is then displayed in percentage terms. The payout indicators shows exactly the amount that will be returned if the trade is placed (this includes your stake amount).
At the bottom right are the trading buttons with arrows indicating the trade direction – Call (bet that the market will rise) or Put (bet that the market will fall.  When you hover on the icons an arrow will also appear on the price graph, to show which way the price will need to move in order for the trade to finish in profit.
The dealing buttons at IQ Option are 'single click' – no confirmation window or repeated actions are necessary.  Once a trade is placed this will be visible in the 'Open Positions' window and when clicked a line will display on the price graph indicating the strike price.  You can also sell most trades before expiry.
The binary options trading platform in general is clean, responsive, agile, well laid out with lots of options and information and it is clear a lot of effort and work has gone into polishing it.  It is also quite exciting and has sufficient customisation to satisfy most traders.  Very few other binary providers will offer a better trading platform than this.
On the left, you will see your open and closed positions. You can also look through assets, top performing traders (for copy trading), signals and news. This is very convenient! Don't like the black background? Change it to white by clicking on the moon-shaped icon at the bottom of the page (Theme Settings).
They also offer Tournaments where traders can compete against other IQ Option clients and win prizes. The tournaments are held using virtual funds (usually, $100) but there is a small entry fee ranging from $1 to $100. The winner is the trader who will have increased most his tournament deposit in a set time limit; some tournaments will last for a day while others can last several weeks. Mega tournaments are also available with an entry price of $5 ($5000 prize pool), $10 ($10,000 prize pool), $15 ($15,000 prize pool) or even higher prize pools.
Bonuses are also available but don't take a bonus unless you are willing to satisfy the minimum trading requirements or you will have problems withdrawing your funds. Read the Terms and Conditions before accepting any Bonuses.
To summarise IQ Option may be a good choice for traders with no experience and with a low capital to start and this is something will attract many in who look for a door into this kind of trading.
Binary Options: How does IQ Option make money?
If you were to lose $100 and trader X were to win his trade where he invested $100, he earns only up to $85, which leaves the "missing %". The difference is, 15% in this case. Not all of it might actually go in the provider's pocket. There are fees for the platform, fees for data quotes, support, marketing, transaction fees and lots more.
Disadvantages: Clients have complained of re-quotes and trade rejections when trying to buy options on IQ Option with real money. Also, if you start winning, there have been reports of people complaining about IQ Option playing games to stop them winning like delaying trades. Even their terms and conditions say it could take 4 seconds to process trades. In some cases winning account holders have even been blocked or closed like what happens with traditional bookmakers. In fact IQ Option is more of a betting site than a 'broker' and they have developed a form of high risk/reward game where you aim to develop a slight edge.
As with all binary option providers you are not dealing with real exchanges, you are in the broker's world and he has all the control. You win he loses and if you lose he wins because he has his own dealing desk and makes his own market. As for whether the price quotes are wrong, generally I believe most brokerages have slightly different prices.
In my conclusion, I must mention that it's therefore important to trade with a provider with a good reputation and one that is regulated. Sometimes reputation weighs even more than regulation but a combination of both is best. Remember the conflict of interest and as I said, focus on regulation and reputation and you can enjoy trading binary options too.