EZBinary Review
Introduction
EZBinary is a binary options brokerage outfit owned by Parabola Investment Ltd. They operate with the Tradologic white label platform. EZBinary commenced operations in 2011 with headquarters in London and satellite offices in France and Spain.
EZBinary Bonus Promotion
EZBinary offers a 100% bonus for its new clients.  To claim the offer sign up for an account by clicking here.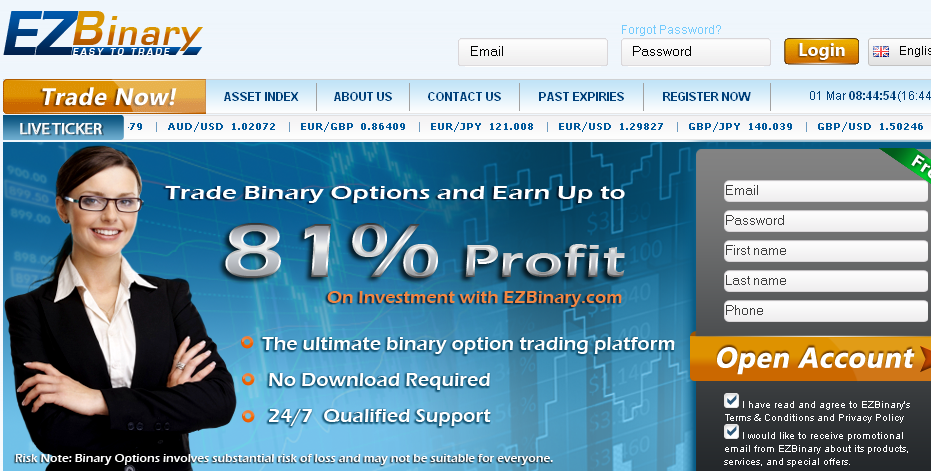 Trade Types
EZBinary offers the following binary option contracts to traders:
a)      Digital Option: The trader can bet on an asset ending higher or lower than market price by expiry for an average payout of 70%.
b)      Touch Option: here the trader bets on whether the price of the asset will touch a pre-set price target or not.
c)      Range Option: Also called the boundary option or In/Out option, the aim of the trade is to predict if the price of the asset will stay in a price range of experience a breakout on either side of the boundaries of the range.
Asset Index
Traders can trade assets in five different classes as follows:
Commodities: Gold, silver, oil, copper, coffee and sugar.
Currencies: NZDUSD, EURGBP, USDCAD, EURJPY, USDJPY, GBPUSD, EURUSD, AUDUSD, EURCHF and USDCHF.
Indices: FTSE-100, DAX-30, Dow Jones, CAC40, S&P500, NASDAQ and BOVESPA.
Stocks: Apple, Boeing, Exxon Mobile, Google, McDonalds, Microsoft, Nike, Vodafone, ING Group, Coca Cola.
Bonds: German Bonds (BUND). EZBinary is one of the very few brokers that offer the opportunity to trade the yields of bonds on a daily basis.
Trade Requirements
The minimum deposit amount on the EZBinary platform is $200. The following methods of transaction can be used to deposit funds and withdraw funds from EZBinary.
a)      Credit card: There is a limit of $5000 when depositing with credit or debit cards. They provide the most immediate method of transacting, and there are no charges associated with their usage. Traders can withdraw as low as $10 with the card method. Before the first use, a credit card must be verified. To do this, the trader must send a copy of the front and back of the card with the middle 8 digits of the card number and the CVV covered.
b)      E-wallet: Moneybookers is the most popular e-wallet method used. It also provides third party processing for credit cards and more than 99 online payment methods.
c)      Bank wires are the preferred transaction method when sending large amounts of money. The minimum that can be deposited without penalty using this method is $250. Penalty for transactions below $250 is $25. Traders can withdraw a minimum of $30 using bank wires. If a trader wants to exceed the transaction limit for a card transaction, bank wires are the method of choice.
All traders are given an account opening bonus that starts at $500. It is generally faster to withdraw funds as a VIP account holder (3-5 business days) than as a regular account holder (5 – 12 business days).
Customer Support
EZBinary is located in Essex, United Kingdom and the support desk can be reached via email, live chat, the online contact form and by phone.
Email: support@EZBinary.com
Telephone: +44 2035141180 (London office)
                     +33975182338 (Paris)
                     +344911230102 (Madrid)
There is also a Skype contact which can be made available upon inquiry from the individual account officers.