Options Xpress Review
Service plus accessibility equals growth
If you've ever wanted a trading platform that comes up with real time trading ideas on your laptop, then OptionsXpress could be what you're looking for. First available in 2000, this online broker is continually evolving its offering to benefit its account holders. Its Idea Hub will give you a constant flow of ideas to suit your trading style, whether your particular specialization is volatility, income-based trades, or covered calls.
No need for money!
Okay, so that comment might be an exaggeration but OptionsXpress is one of the few brokers out there where you can open and set up your account with a minimum balance of zero dollars, and there's no need to keep a minimum balance, either. This is all good: if you need to clear your account out to satisfy a short term cash flow problem, you're not going to have it closed on you or be hit with extra charges.
When it comes to trading, OptionsXpress is about average compared to most other discount brokers in terms of cost. Stock, bond and mutual fund trades can be executed for $9.95. The real win is for options traders, where there is no base trade price and trades are charged at the rate of $1.50 per contract. There's a minimum charge of $14.95, but for active traders this comes down to $1.25 per contract with a minimum of $12.95.
Margin rates range from 8.25% down to 6% for margin of $1million plus.
Everything in one place
The OptionsXpress platform is one of the easiest to use in the market. It can be fully customized as to look and feel, and it has a number of trader friendly tools to help open, monitor, and assess trades.
Through the OptionsXpress Screener, a trader can set instrument and opportunity criteria – volatility, income, price to earnings ratios, etc. – and be alerted when trading opportunities arise, across any of the instruments supported on the platform.
And that brings me to something else I like about OptionsXpress: you can access all your trading from the single platform: stocks, funds, bonds, and, of course, its specialized area of options and futures, can all be monitored and traded without having to switch between one application and another.
StratagyScan is another trade opportunity tool, and there is advanced charting functionality, with an inbuilt analytical feature alerting you to the patterns that you might want to use for your directional trading (triangles, wedges, double and treble tops, and so on).
There's also a virtual application that allows you to refine strategies with a dummy $25,000 account.
And when trading, orders can be entered from a trade ticket, strategies easily built, or one click trades input top open or close positions.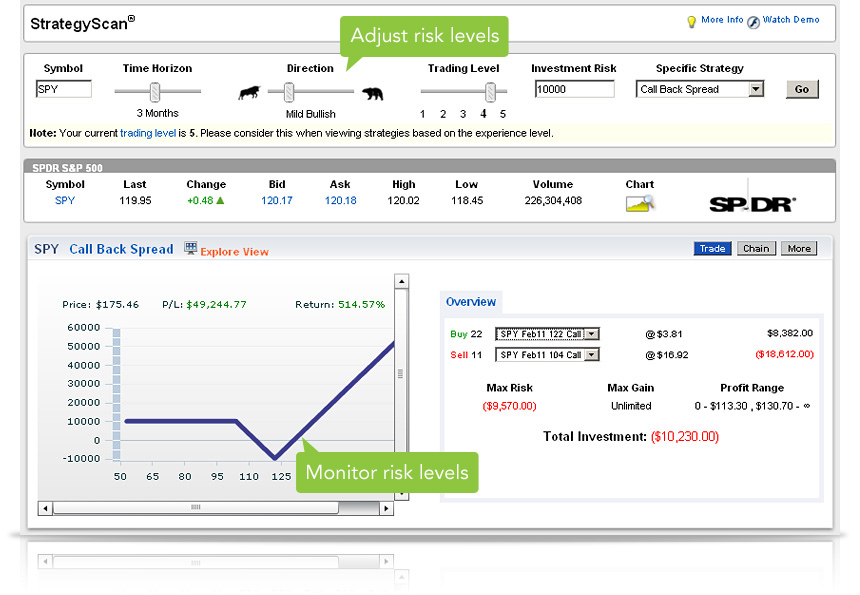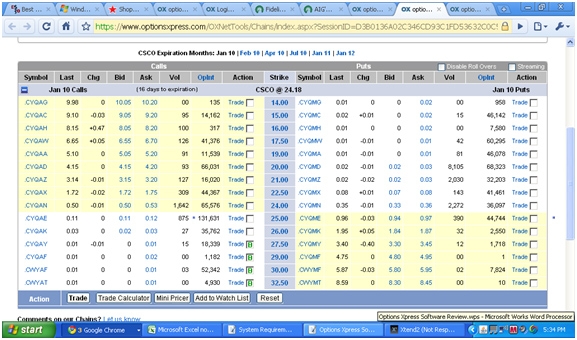 A full service broker
OptionsXpress is a part of the Charles Schwab Group, so it's not surprising that you can also access a number of other services through your OptionsXpress account. Financial advice and other brokerage services are available to all.
Something that singles out OptionsXpress from many of its competitors, though, is the free access to options and futures specialists to account holders, either online or on the telephone. That's a real bonus, especially to beginners.
From first contact to last
When you first visit the OptionsXpress website, you'll discover how the company treat all it does with clarity. It has an array of educational and informational material available, including its introductory video that provides information for all traders, no matter the level of expertise.
There are tutorials on trading, strategy building, chart use, and test to assess skills. It's like having a financial markets course in your study.
And when you're trading with an OptionsXpress account, you get the benefit of an equity and options newsletter two times a day and a daily market trend note.
In summary
OptionsXpress is not the cheapest option for stocks traders, but is highly competitive for those trading options. When you factor in the no cost account maintenance, and the zero minimum, as well as access to telephone or chat line assistance free of charge, it's not surprising that Kiplinger's has rated it best for cost. The company has also won a wedge of other awards for its trading platform, service, and cost down the years.
Having an account with OptionsXpress is like having a full service broker at your fingertips.