TradeKing Review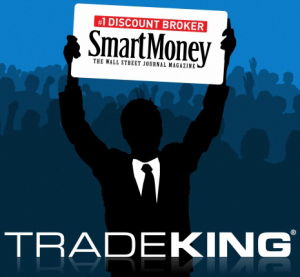 TradeKing are an online options trading brokerage, offering some of the most attractive rates in the industry. Formed in 2005, they have always found themselves leading the pack when it comes to features, standards and customer service — the latter being emphasised with their winning of awards for customer service from many authoritative publications, such as The Wall Street Journal. Ordinarily the costs of such premium services will be passed onto the clients but at $4.95 flat rate trades and $0.65 option contracts, there are no real signs of that being the case here. TradeKing also recently strengthened their position by merging with Zecco in May 2012, a brokerage that has a similar approach to business as themselves.
First Impressions
The TradeKing website is extremely clean, easy to navigate and generally pleasant to be on. You will find all the features that you would expect (in addition to a few that you wouldn't have thought of) in their menu, quite clearly labeled so as to avoid any confusion amongst novice traders. As I have already mentioned, TradeKing are known for the emphasis they place on customer service and that is evident from the activity on their social media accounts. While it may not be the prefered method of contact for some traders, independants and hobbyists will find the extra methods of contact and the response time via them reassuring.
Pricing
The pricing on offer is hardly groundbreaking but nonetheless, TradeKing are extremely competitive. A trade will set you back $4.95 each, regardless of complexity. Eight or more trades can also be purchased for $8.95 with additional contracts costing $0.15, while Fund trades will cost you $14.95. The funds are a little on the steep side but by no means the worst around with other brokerages we have reviewed costing as much as $49.99. TradeKing are also one of the few companies to offer free broker assisted orders. Additionally, there are no minimum balance requirements or account maintenance fees, both of which will be highly important to the independant trader. However, there is a $50 fee for inactive accounts with a balance of less than $2,500 when no trades have been placed over the last 12 months. There is a $2.50 fee for paper based statements but those are viewable via a web based panel, so aren't really an issue.
Platform
TradeKing offer one of the most comprehensive trading platforms we have used to date. While it may look simplistic at first glance, there are layers upon layers of options, trade types, research tools and market data for those that wish to utilize them. There are also a host of little features that other brokers have overlooked as well, such as the automatic quote which is appears instantly as you complete the form to submit a trade. The phrase "it's the little things that make the big difference" certainly rings true with TradeKing.
TradeKing are truly a complete solution for those looking to either get into options trading or just switch brokers. Everything you need can be found on their trading platform, as well as a few things that you will wonder how you ever lived without. Independent, self directed traders will find themselves right at home with TradeKing, with every base that comes to mind being covered.