Best 8 Wall Street Movies
In no particular order, this is the list of my 8 best Wall Street and trading related movies. Beyond the entertaining value, there's always some trading wisdom to be gained by watching these movies.
Wall Street is a 1987 film, directed and co-written by Oliver Stone, which features Michael Douglas, Charlie Sheen, Daryl Hannah and Martin Sheen. The movie narrates the story of Bud Fox (Sheen), a young stock broker who is ready to do anything to get to the top. He becomes involved with Gordon Gekko (Douglas), a wealthy, unscrupulous corporate raider who teaches him the philosophy that 'greed is good'.

Rogue Trader is a 1999 film directed by James Dearden about former derivatives broker Nick Leeson whose catastrophic unauthorized trading losses brought 233 years old Barings, Britain's oldest investment bank, to its knees in 1995. It is based on Leeson's 1996 book Rogue Trader: How I Brought Down Barings Bank and Shook the Financial World and stars Ewan McGregor and Anna Friel.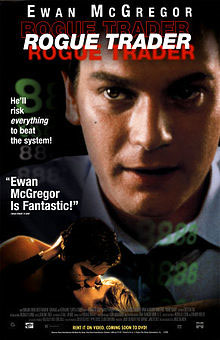 Wall Street: Money Never Sleeps (also known as Wall Street 2) is a 2010 film directed by Oliver Stone, a sequel to Wall Street (1987). It includes renowned actors Michael Douglas, Shia LaBeouf, Josh Brolin, Carey Mulligan, and Frank Langella. The film takes place in New York for the most part (with a detour to London, demonstrating how genuinely global the financial world has become in the interim), 23 years after the original. Having as background the 2008 financial crisis, its plot centers on a reformed Gordon Gekko ( Michael Douglas), following his attempts to repair his relationship with his daughter Winnie (Carey Mulligan), with the help of her fiancé, Jacob (Shia LaBeouf). In return, Gekko helps Jacob get revenge on the man he thinks is responsible for his mentor's death.

Boiler Room is a 2000 film written and directed by Ben Younger, and starring Giovanni Ribisi, Vin Diesel, Nia Long, Ben Affleck and Nicky Katt. The plot revolves around Seth Davis (Ribisi), a college dropout running an illegal casino from his rented apartment. The desire for wealth and his domineering father's disapproval of the way he's earning a living drives him to seek employment as a stock broker with JT Marlin. He later finds out that this is a brokerage involved in illegal pump and dump schemes, a fact that puts him again at odds with his morality and his father.

The Wolf of Wall Street is a 2013 film, directed by Martin Scorsese. Based on the true story of Jordan Belfort, it shows his rise as a stockbroker and penny stock mastermind and how his firm Stratton Oakmont engaged in rampant corruption and fraud on Wall Street that ultimately led to his downfall. Leonardo DiCaprio stars as Belfort, with Jonah Hill as his business partner and friend Donnie Azoff, Margot Robbie as his second wife Naomi Lapaglia, and Kyle Chandler as Patrick Denham, the FBI agent who tries to bring him to justice.

Trading Places is a 1983 film directed by John Landis, starring Dan Aykroyd and Eddie Murphy. In this comedy, two brothers who run a commodity futures brokerage make a bet to determine whether nature or nurture determine someone's character. Consequently, they swap an upper-class broker (Aykroyd) with a homeless street hustler (Murphy) and get a result they didn't plan for. The storyline is often called a modern take on Mark Twain's classic The Prince and the Pauper.

Trader is a 1987, 55 minutes long film made during the raging bull market of the 1980s. It's a little known documentary that stars hedge fund titan Paul Tudor Jones and chronicles his early days as an active investor. Jones uses Elliot Wave analysis and what he sees as similarities to the 1920s bull market to predict the Black Monday crash.

The Crash of 1929 is an one hour long documentary that aired in 1990 as episode 5, season 3 of American Experience TV series. It examines the stock market crash of 1929 and includes interviews with people who lived through the crash and with descendants of Wall Street insiders. Notable is the appearance of Patricia Livermore, the daughter in law of Jesse Livermore, the trader who is said to have made $100 Million in 1929 by being short the market.