How to Contend with Real Forex Issues
A problem that can seriously affect the performances of Forex tools is when their designers deliberately optimize the performances of their inventions to comply with particular market conditions only. Their products are then able to produce excellent diagrammatical results which are subsequently marketed onto you. However, Forex market conditions can alter dramatically without warning. For example, the normal drivers generating the price patterns on the EURUSD trading charts are the decisions made by the USA and European governments together with the comparable performances of their economies.
However, a serious change took place in July 2011 when USA recessionary fears and European debt contagion began to cause increasing levels of fear and uncertainty which subsequently became the new drivers. One of the major implications of this new development was that all Forex tools and strategies that had been optimized to perform best with the first normal drivers began to fail under these new trading conditions. You can verify this outcome by visiting sites such as the Forex Peace Army. By doing so, you can confirm that the performances of many of the listed Expert Advisors seriously deteriorated over the months following July 2011.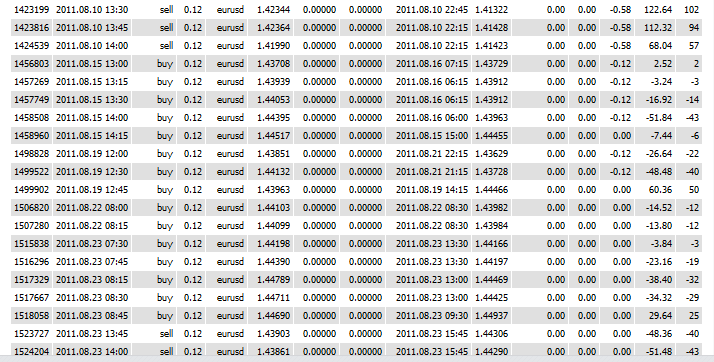 The table above demonstrates a good example by displaying the trading results for a famous forex robot. You will notice that as the month of August progressed, the number of losses increased substantially. This was because increasingly market fear and uncertainly began to have a growing influence on generation of the price formations for the EURUSD currency pair. As this expert advisor was optimize to trade other more normal market conditions, it began to struggle badly when confounded by the new price patterns primarily created by market fear and uncertainty.
Such effects are the bane of most Forex tools and strategies. Although professional traders are fully aware of this, novices tend not to be and as a result are unable to undertake effective analysis of forex products. In fact, such tools have been found to be totally inadequate at coping with the extreme events caused during real-time trading.  For instance, large price spikes and internet disconnections can seriously influence the quality of trading results attained. As such, experts have made it an important objective to learn the skills that will allow them to perform detailed research in order to identify if those products of interest really do contain solutions to real-time problems.
In order to combat such conditions themselves, traders need to operate their Forex strategies using a dependable approach over extensive lengths of time in order to attain a reliable income. To realize such a goal, they first require a well-tested set of procedures that must then be instigated proficiently by integrating it with well-founded money management concepts together with a professional mindset.
A developed psychology is vitally important to guarantee that all trading evaluations are performed using the necessary judgment and discipline. Traders are less prone to adhere to their Forex trading strategies for any extensive time period without having the assurance in their abilities to endure negative developments. For example, after encountering their initial series of successive losses, many newbies endure such massive plunges in confidence that a large number of them just throw in the towel and quit.
This dismal reaction is normally caused by their natural responses to evade any further stress resulting in their trust in their trading strategies diminishing rapidly. Traders become simply overwhelmed by intense doubts, anxiety and fears under such conditions making any further Forex trading practically impossible. Numerous human sentiments can adversely influence their mindsets. For example, they become frustrated if reality fails to fulfill with their hopes. Anxiety prevails when they no longer have faith in their trading abilities following significant declines in self-assurance. How can they recapture their posture if their latest experience is a series of sequential losses?
Beginners must rapidly acknowledge that Forex will inevitably produce losses as a matter of certainty. Currency trading is particularly unpredictable and even sure-fire deals can turn surprisingly bad in a matter of moments. This is especially so with the Forex market because its size, complexity and volatility always means that a sufficient number of active global events are always present capable of affecting currency pairs in one form or another.